In front of an audience of nearly 200 representatives of the largest technology companies in the world, the winners of the 2016 European Hardware Awards picked up their honours at the Taipei International Convention Centre on the eve of Computex. As well as the awards themselves, the EHA also presented the results of its latest pan-European research.
The extensive process for nominations and voting took place for more than a month and, for the first time, SweClockers (Sweden) joined Hardware.info (Netherlands), HardwareLuxx (Germany), Hardware Upgrade (Italy), HispaZone (Spain), KitGuru (United Kingdom), Lab501 (Romania), CowCotLand (France) and PurePC (Poland) in creating this definitive list of the finest hardware on sale across Europe.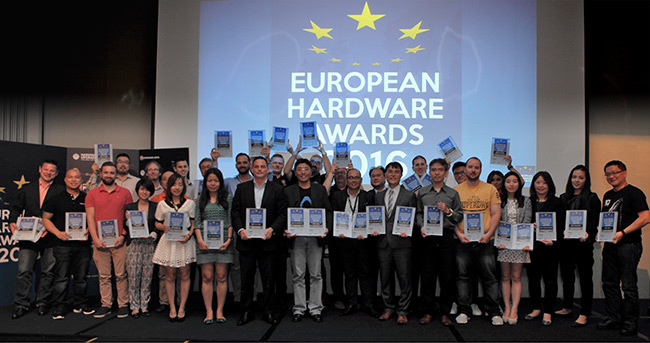 Together, these sites host more than 22 million visitors a year and have a combined database of more than 100,000 articles. It's that accumulation of technical expertise, gained by running millions of individual tests over so many years, that makes the European Hardware Awards possible.
Enough of the preamble, on to the winners!